Posted on December 24, 2014
What's the difference between SMD 3528 and SMD 5050 with LED Strips?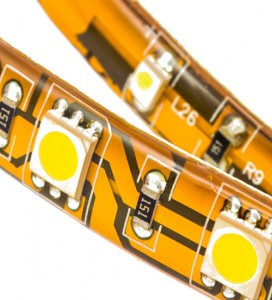 LED Strips, used for effects round the home and in commercial LED lighting applications are most commonly offered in SMD 3528 or SMD 5050 variations – but what is the difference?
SMD stands for a 'surface mount device', where lots of small LED chips are mounted to a surface. This is becoming a more common form of LED, moving away from the conventional COB LED's found in large flood lights and lamps. The technologies of the future, like interchangeable LED light engines and being made with these LED light modules, mounted to a surface.
SMD's are great because they consume a very low amount of energy but provide great light output, with a long lifespan. But what's the difference between 3528 and 5050 and what do you need?
SMD 3528 offers single colour luminosity with extremely low power consumption and is available in IP21 or IP65 (waterproof or non-waterproof), whereas SMD 5050 is a more powerful option featuring 3 chips in one housing allowing colour changing flexibility. SMD 5050 is also available in IP21 or IP65.
The name '3528' derives from the dimension of a chip (around 3.5mm by 2.8mm). These are commonly used in domestic projects, in restaurants, bars,  and for projects requiring a one-colour, low powered and cost effective solution.
SMD 5050 is great if you require a more high-performance, ultra-bright output. They are available with colour changing flexibility which is easily adjustable with the help of controllers. Sedna's SMD 5050 strips achieve 22.5 lumens per watt and are compatible with controllers capable of producing more than 16 million colours.
If you are looking for a cost-effective strip for accent lighting the SMD3528 strip is an ideal solution. For those requiring extensive illumination settings and high luminosity, the SMD5050 strip is perfect, with a lower cost per lumen than 3528. Sedna also offer 24V High Power LED Strip, which has two rows of LEDs for even brighter output.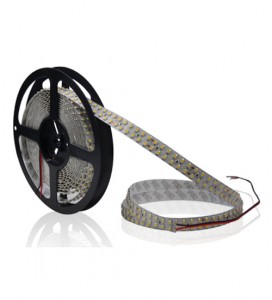 If you're still not sure, contact us today or order a sample.
Reccessed Downlights – The Common Misconceptions