Posted on June 23, 2014
Members of Sedna's UK-based sales and marketing team have ran the 2013 Cardiff Half Marathon – as part of an exciting government initiative and to boost employee morale and health. Britain's Personal Best is about recreating the sense of pride and accomplishment felt by Team GB and reigniting the spirit of the 2012 London Olympic and Paralympic games, asking organisations to join in through mass participation events and challenges.
Sedna funded new running shoes and entrance fees for the race for willing employees. As novice runners, it got everyone training together and thinking more about exercise and health – becoming a fun part of everyday office life – with progress being tracked in the office.
A number of staff joined 19,000 runners at the biggest Cardiff Half Marathon ever – on Sunday 6th October. The 13.1 mile course took in some of the Welsh Capital's most iconic landmarks including Penarth Marina, Cardiff Bay, The Wales Millennium Centre, Roath Lake and the city's Civic Centre.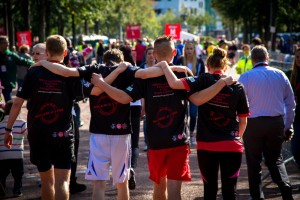 You can find out more about Sedna and the team on our About Us page.
Lux Live 2013 and the Frost Light
Product design graduate and Sedna create life-saving emergency light