Posted on June 30, 2014
Sedna teamed up with a highly talented recent product design graduate from Cardiff Metropolitan University, Graham Scutt, to develop an emergency light for Zambia which has the potential to save many lives.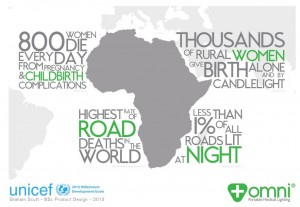 Although maternal mortality worldwide dropped by almost 50% between 1990 and 2010, everyday approximately 800 women die from preventable causes related to pregnancy and childbirth, with 99% of death occurring in developing countries (WHO 2013). Africa also has the highest rate of road traffic deaths anywhere in the world. Poor driving standards and limited emergency services mean that accidents are often fatal (soschildren.org 2013).
Africa does not have a reliable electricity network, let alone a street lighting system in rural areas. Approximately one quarter of the sub-Saharan African population has access to electricity and according to the World Bank "There is just enough electricity generated now to power one light bulb per person 3 hours a day", making blackouts in rural areas a common occurrence.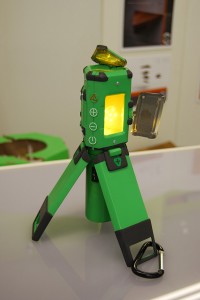 The Emergency Light has been developed with the aim to aid in situations such as women in labour and automobile accidents. LED lighting was perfect for the design due to its incredibly long life-span, making it a reliable source for emergencies.
Graham Scutt said: "Combining these findings shows a requirement for an emergency medical treatment lighting system that is quickly deployable in rural areas under any condition and can alleviate the problems faced".
Sedna funded and provided the materials for this innovative project and design, Nathan Edwards from Sedna said: "This design shows that LEDs are well on their way to saving life – one light at a time".
Graham has since won an Elektra Award for the project, taking the 'Rising Star New Engineer of the Year' award.
The Emergency Light isn't available to the general public, but you can view other products in Sedna's innovative range here.
Sedna at the Cardiff Half Marathon