Posted on June 16, 2014
Sedna exhibited at this years Lux Live event, held at Earl's Court in London on the 20th and 21st November 2013. It's the UK's number one lighting exhibition, organised by Lux Magazine and the Lighting Industry Association – with over 5000 visitors.
The event aimed to educate and entertain in equal measure and this year was no exception, with late evening opening, a bigger, better venue and plenty of new exhibitors – coupled with engaging and interactive content.
There was plenty to see including new design event, The Light Fight, the acclaimed Eco Light Conference and a live interview with Shuji Nakamura, regarded as the inventor of the blue LED. Shuji even paid Sedna's stand a visit.
Sedna exhibited an exciting new range for 2014 including the Heavy Duty TITAN™, a new Bulkhead, IP65 vapour-proof fitting and a world's first in industrial lamping – the Corn Lamp.
In 2013 Sedna established a collaboration with Cardiff Metropolitan University, working with product design students. The students worked on a project designing a lighting product for a public space with Sedna – who chose the Lux Live event as an opportunity for the students to pitch their idea at a panel of lighting professionals.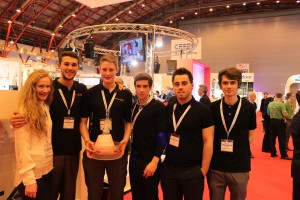 The Dragon's Den competition was an astounding success for Sedna and the students, who's 'Frost Light' product won the competition. The competition asked entrepreneurs to pitch their innovative lighting ideas to a panel of seasoned professionals, who included Toby Marlow of Waitrose, Tad Trulski of Light Bureau, Andrew Howis of Speirs and Major, Kevan Shaw of KSLD and Alessandro Targetti of Cree. The six strong student team worked with Sedna on the 'Frost Light' product before pitching it to the dragons with the design brief to create a lighting solution for a bar or club. The students looked into glowing cupholders and illuminated drinks trays before creating the Frost Light, a colour-changing illuminated frozen bottle stand after deciding LED could look good through ice.
The product was received extremely well – the student's received an "I'm In" from all five of the Dragons following some gruelling questions about their design choices and market research – the best response amongst their competitors, who were all lighting and design professionals.
The students had a great time at the event, they loved meeting all the companies exhibiting, getting expert feedback on their product and learnt a lot from the experience Sedna offered. Sedna and students are now looking at developing the product further using feedback from the Dragons.
Did you see Sedna at Lux Live? If you were interested in our range of products then why not enquire about Becoming A Distributor.
Industrial LED lighting: Masters Exhibitions warehouse re-fit