Posted on June 9, 2014
The Customer
Masters Exhibitions specialise in innovative design and manufacture, creating exciting an unusual bespoke exhibition trailers, stands, vehicles and truck conversions. The company seeks to provide clients with beautiful exhibition vehicles and stands of the highest quality, whether it is an ATM unit, small exhibition van or a huge agricultural display. As a result, the firm was looking to pursue a shift in technology throughout their warehousing facilities to ensure standards of manufacturing excellence had the ability to prevail.
Masters Exhibitions paired with Sedna for the initial trial and final installation of LED high bays.
The Brief
Generating confidence to convert to LED has been a daunting prospect for some years; however, following the success of the introduction of LED technology in the running lights for their vans, Masters were very keen to do so.
Chris Bonwick, a senior designer at Masters stressed how although 'previously it had been difficult to justify the increased cost of LED's against standard flourescent and incandesent lights, it seems that LEDs have finally come of age and Sedna can offer products at a point that makes them more profitable".
The conception surrounding the exchange of the long-standing, outmoded lighting was proposed in the hope to reduce electricity consumption, on-going maintenance costs and the obvious environmental damages.
The Solution
To meet the requirements, Masters Exhibitions opted for 10 LED high/low bays, replacing 15 conventional lights. With industrial application in mind, they are designed specifically for installations requiring high level light mounting. Long life means annual re-lamp, expensive lift-equipment and inconvenience can be avoided in addition to savings from reduced energy consumption:
​An instant, flicker-free illumination further suits this product to manufacturing and warehouse environments, as it is also compatible with PIR movement sensors. With an improved CRI (colour rendering index) over conventional lights, LED, which is normally 80+ (compared to conventional 20-35 CRI) improves the ability to read labels and barcodes, which is great for warehouses.
In addition to the outstanding quality of light delivered, the unit has the ability to effortlessly retro-fit to existing mountings, ensuring the re-lamping process is pain free.
Results and Benefits
Switching to LED will benefit any industrial or commercial environment, but reduced energy and maintenance costs were not the only benefits to Masters', who are now helping to protect th environment too. This project has provided Masters' with the opportunity to save up to 85% on their operating costs, by helping to reduce maintenance and replacements costs, and the dreaded inconvenience. that accompanies them. Fittings would regularly need replacing and because of their height expensive lifting equipment had to be hired for access.
The design of the Sedna low bays assures maintaining a high quality of environmental aesthetics, offering a colour temperature that is cool, calm and pleasing on the eye with significantly improved colour rendering index.
In response to the implementation of LED, Chris Bonwick reports that 'the quality of light is certainly better for the production team, helping them work more efficiently and most importantly safely. Previous to the initiative there was a yellow/green glow to the lights which was unpleasant to work with, now the clean white light the LEDs emit make the workshop a much more pleasant place of work'.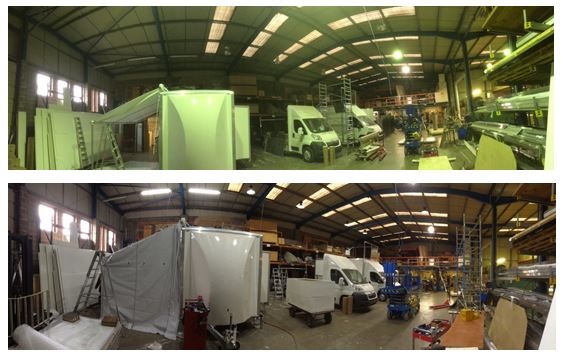 Impressed by the benefits of LED? Take a look at our product range.
The Electricity Demand Reduction (EDR) Pilot