Posted on September 14, 2015
SEDNA Lighting partnered with engineering talent – Cardiff Racing Team – for Silverstone and Europe IMechE Formula Student Competition.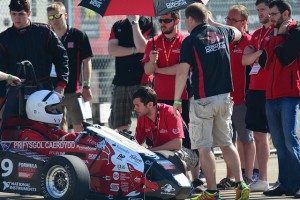 Partnership
As a local technology company, SEDNA is passionate about young engineering talent and have worked on numerous projects to this end. This year we are supporting the budding young engineers of Cardiff University's Racing Team. The spark with Cardiff Racing was instant. Local team, bright students, phenomenal effort-these are the qualities that SEDNA supports and promotes. The student team is tasked with taking on some of the world's elite engineering talent in a Formula 1 style competition.
Nathan Edwards, of SEDNA, said "We love working with young engineering talent and have proved this time and again over the past few years. We knew about some of the difficulties facing a university supported team competing against some of the world's elite and we set out to find how we could help. It turned out that lighting was one item that had been missed by budget restraints. Once we sorted out with lighting, we had our engineers provide technical support and resources to the team such as rapid production facilities and components for the car. We are wishing best of luck to Cardiff University on their European road trip this autumn."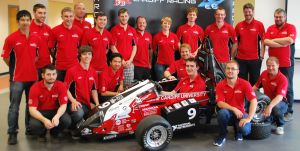 Silverstone and European road trip
The first big event of this summer was the Formula Student UK event at Silverstone in July. It is something Cardiff University team attend every year to compete against other universities from around the globe. The team is looking forward to more testing time during the autumn European road trip FS Czech and FS Italy competitions.
Benefits of LED lighting are obvious
Sean Creed of the Cardiff University Racing Team, "Previously the lighting we had was very poor and fluorescent which made the tedious jobs that much more difficult. Now with the LED lighting kindly provided by SEDNA, the pits and paddocks are safely and professionally illuminated which scores us good points with the judges and competitor teams.  And the quality of the light means we can work more efficiently and precisely; very important when challenging for a top 10 global position in the rankings."
Whatever business you are in we are sure you are aiming for the stars. Our wide range of extremely energy efficient and long lasting LEDs  will help your business thrive as well as give a great sense of being "green" or Earth-Friendly. Get in touch or request a product catalogue for more info.