Posted on October 31, 2014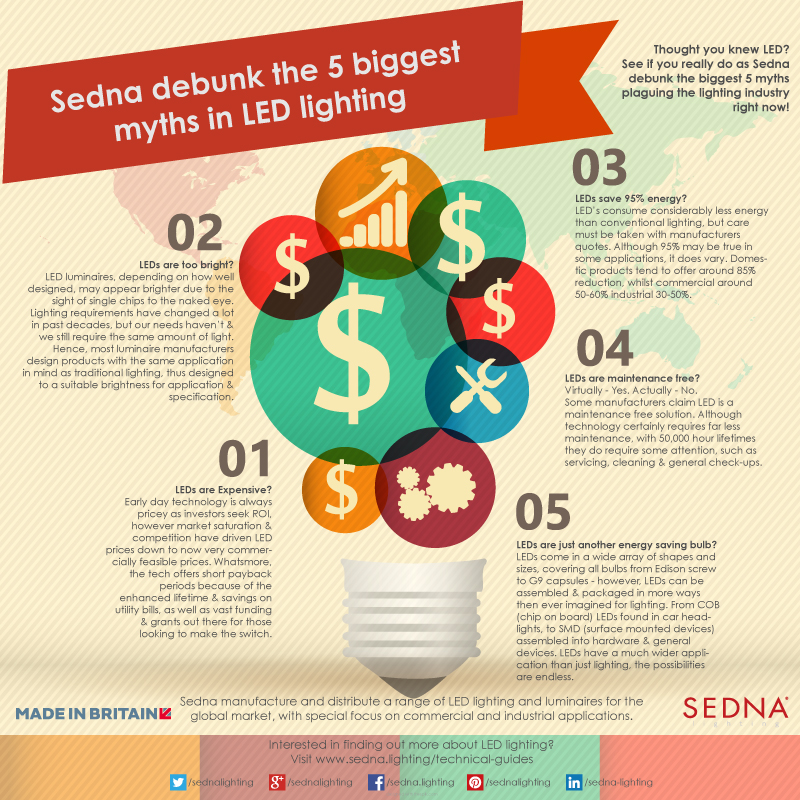 We put together these '5 myths of LED' to try and debunk some of the common misconceptions surrounding LED lighting technology, common mistakes or assumptions people make about LED – be it commercial, industrial domestic or exterior lighting products.
Many assume they are expensive. With investors seeking ROI they may presume this to be the case – but market saturation and competition have driven prices down to a commercially feasible level. The tech also offers short payback periods because of enhanced lifetime and savings on utility bills. Our Energy Savings Calculator can help you calculate exactly how much you stand to save on your application.
Some consider LED too bright, as the sight of single chips appears brighter than conventional lighting sources. Most luminaire manufacturers however design products with the application in mind, so they offer a suitable brightness level.
Some manufacturers claim high energy savings rates, which are often exaggerated. LED does offer high savings rates but it varies between types of products. Domestic lighting tends to offer around an 85% reduction in energy consumption, Commercial lighting around 50-60% and Industrial lighting between 30-50%.
LEDs are virtually maintenance free. Some claim LED is a maintenance free solution, and although it requires far less maintenance than conventional light sources it still demands some attention -such as servicing, cleaning and general check ups.
LEDs are not just another energy saving bulb. They come in a wide array of shapes and sizes, covering all bulbs from Edison screw to G9 capsules.  LEDs can be assembled and packaged in more ways than ever imagined for lighting – From COB (chip on board) LED's found in car head lights, to SMD (surface mounted devices) which can be assembled into a whole host of  hardware and general devices, from nimble Flexible Strip, to the mighty Heavy Duty Flood.
Interested in LED? Why not request a catalogue to see our full range.