Posted on January 7, 2015
Eindhoven City Council refrains from building cyclist underpasses, so had to look for alternative solutions when growing traffic meant they needed to replace a level crossing where there had been a number of accidents with cyclists in recent years.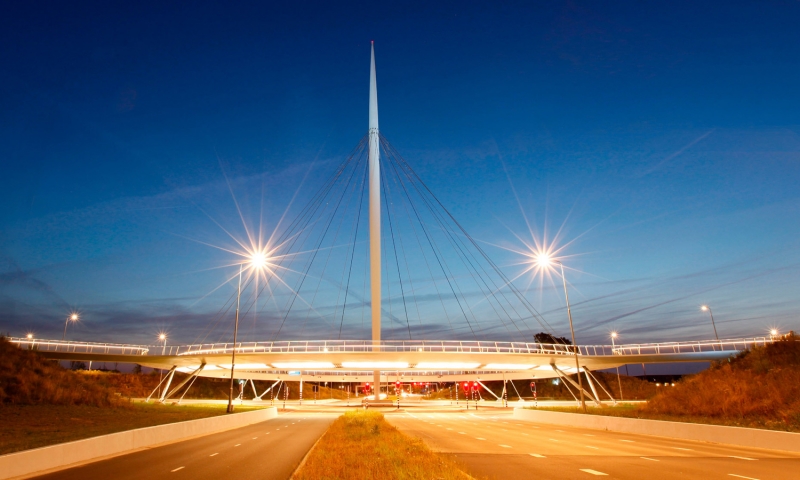 The solution was the creation of the LED Hovenring that 'hovers' over the busy motorway intersection. The LED-lit Hovenring is a cycle path predominantly, but it looks more like a UFO. The steel bridge hovers over the motorway intersection – its impressive pylon marking the entrance way to the cities of Eindhoven and Veldhoven.
Functional lighting is integrated into the railing and lights attached to the cable framework in between the pylon and bridge deck and to the inner surface of the circular counterweight illuminate the intersection below. The 230 foot tall central pylon is connected by 24 steel cables to the circular bridge deck to hold the structure, which weighs more than one million kilograms. High and low frequency vibration dampners are attached to minimise vibration when there are multiple users using the bridge.
LED lighting illuminating the bridge deck  ensures safety as it creates facial recognition between bridge users. Lights attached to the cabling framework between the pylon and bridge deck also illuminate the intersection below.
The bridge opened to the public in 2012. What do you think? We'd love to see some of these in the UK!
Got a bright idea for use of LED in your own home or business? Request A Catalogue today to see how our innovative range of industrial and commercial LED lighting products such as the vapour proof fitting, heavy duty flood or accent LED strip could be the perfect solution. Got something in mind already? Then Find Your Nearest Distributor to request prices and availability.
What could EU legislation on networked devices mean for lighting?